A Weekend Away
UIL Academic Team dominates during trip to District competition, claiming 31 awards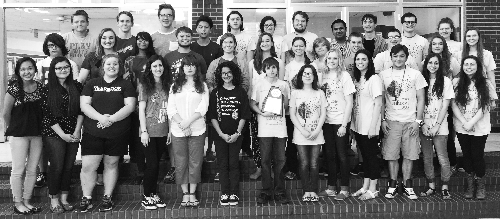 The bus stops at the curb and students and chaperons quickly climb out, taking everything from pillows and blankets to textbooks and pencils into the school with them. While some of the students start studying for their events, others chat with their friends and a few even start up some games trying to de-stress and have a bit of fun before they begin their events. Each of them has one goal in mind: place in one of the top three positions of their event and move forward to regionals.
Both the school's academic UIL teams as well as the UIL one-act play traveled to Saginaw to compete in the district competition. Academic students participated in events ranging from debate to number sense.
"It was a great experience," junior Miranda Darne said. "We all got to room together and we went to the mall and played games on the bus and at the school."
Darne competed in News Writing and took fifth place over all.
"I was hoping I would do better, and I just found out that if I had fixed one mis-fact that I would have placed better, so that was kind of disappointing."
Darne was one of many students to place in the competition, including senior Garrett Gregg who won first place in Current Events and helped the team to earn the title of district champions, meaning each member of the team got to move forward to Regionals.
"I watch the news a lot," Gregg said. "At the gym while I am running, I watch Fox News, I listen to NPR in my car, and I get CNN updates on my phone."
Gregg also competed in Headline Writing and took third place, meaning he went to Regionals in both of the events he competed in.
"Headline Writing was spur of the moment," Gregg said. "I was asked to try it at another meet, and I liked it. I practiced for about a week before."
Gregg competed alongside fellow senior Kiersten Scott in Headline Writing. Kiersten also competed in Feature Writing and took third place. She represented the school at Regionals as well.
"Moving on to regionals is exciting but it's also pretty stressful because it is the end of my senior year, so I have a lot going on," Scott said.
Despite the stress of regionals, Scott said the district competition itself was not too stressful.
"We had a lot of fun so I don't think I was thinking much about my events at all because we were playing a bunch of games," Scott said.
The students passed time at the all-day competition by playing games like 'Ninja' and 'Cards Against Humanity'.
Senior Alyssa Matthews said the whole trip "helped us to bond."
"I liked the fact that we all got to come down the day before and spend some time together before we actually went to compete," Matthews said. "I feel like I bonded with the team."
The UIL One-Act play also competed and won a District title thanks to their teamwork.
"Some days it is really off and the energy is low and nobody is clicking," sophomore and lead actress Madelynn Castro said.  "And then some days it is like everything just meshes and those shows come together so perfectly, and at District it was one of those shows."